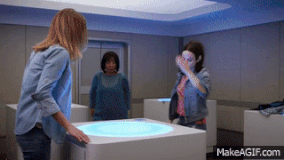 Image borrowed from https://orville.fandom.com/wiki/Matter_synthesis, all rights reserved.
Over the last two weeks there have been numerous discussions regarding the Matter Synthesizers in-use in the Alliance.
After some discussion and review, Zack's current article will be reviewed and approved/edited by Gunsight - the creative author of the Alliance. This should hopefully put an end to the questions that have been boiling out of people for the last week. They tend to be the same questions over and over, in circles. So now we're going to have a wiki article to show off for it.
The article in question is here:
https://www.shattered-universe.com/doku ... ynthesizer
The article is strong enough for present use, though it may change in the future in wording, some points of content, etc. - the general theory is there.
Please place all questions here in this thread, for consideration by both authors. DO NOT bother them about it in Setting Discussion.